I first came across this fantastic idea in Sarah Wilson's, 'I Quit Sugar: Simplicious' cookbook. Her sustainable approach to food is something I just love. This vanilla extract hack I am sharing with you is one of those brilliant simple food saving ideas.
I have since seen it on Pinterest as a great gift idea. Personalised food gifts just warm the cockles of one's heart, well mine anyways.
This recipe requires only 3 simple items. You need Vanilla beans, vodka and an air-tight jar. I just repurposed a small jar that was the height of the vanilla beans.
The Vodka that I purchased was gluten free. It doesn't necessarily need to be vodka, so by all means experiment with other spirits. Certainly let me know how you get along if you do use different spirits.
The concept for vanilla extract is simple. Split the vanilla pods lengthways, place the vanilla beans in a jar and fill the jar with vodka to draw out the essence of the beans.
Now, it is important to keep the vanilla extract in a cool and dark place as heat and light can cause evaporation. It would also help if the bottle you use is amber or cobalt glass as this helps with protecting the vanilla extract inside. I didn't have one of these jars so I just make sure it is stored in a dark cool cupboard.
It does take up to a month for the vanilla to infuse into the liquid. You can see in my photos that the vanilla extract is a very light clear colour. This is due to just remaking a new batch. I need to make sure to give my jar a few shakes each week until it's ready. The colour will then change over time and the flavour of the extract will intensify.
The best part about this vanilla extract hack is that it can be bottomless. You just add more alcohol as you empty the bottle. Also, add more pods as the flavour diminishes.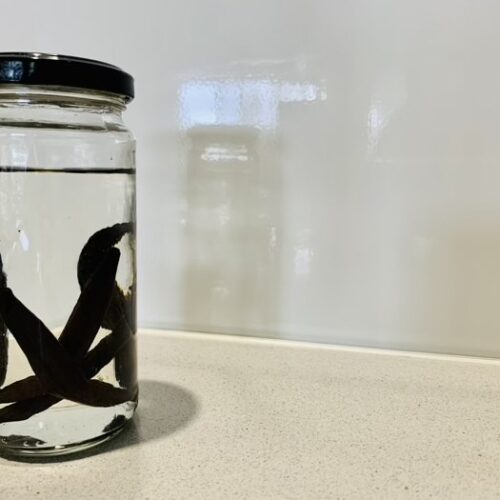 Print Recipe
Vanilla Extract DIY Hack
Make a never-ending vanilla extract from simple ingredients.
Equipment
Air tight jar, amber coloured best
Instructions
Split the vanilla beans lengthways and place into a jar.

Pour the vodka into the jar to cover the pods.

Seal, shake and store in a cool dark place for up to a month. Shake a few times each week.

Add more alcohol as you use the vanilla extract.
Notes
The flavour becomes more intense the longer you keep it. As you use the extract over time, you will want to add another vanilla bean or two to increase the waning flavour.