If you have come to check out my Green Goodness Smoothie, you no doubt are looking to improve your health and diet. After searching for a thyroid friendly smoothie, trying a few, working out what works for me and then tweaking the recipe, I came up with my very own morning 'Green Goodness Smoothie'. This recipe is a great anti inflammatory support for those with auto immune challenges.
We all know how important greens are to our health, but unfortunately they often don't feature in our Western breakfasts. So, a green smoothie is a great way to get lots of micro nutrients into our system. This smoothie includes a variety of leafy greens which you can adapt to suit. I will often vary the greens depending on what I have. I also include cucumber, celery, carrot, apple and lemon. I use a whole apple to add sweetness to the smoothie and half a lemon to give it some lemon zing. Lemon just helps to balance out the flavour. You may wish to only use half an apple if you are trying to cut down on the fructose and carbs.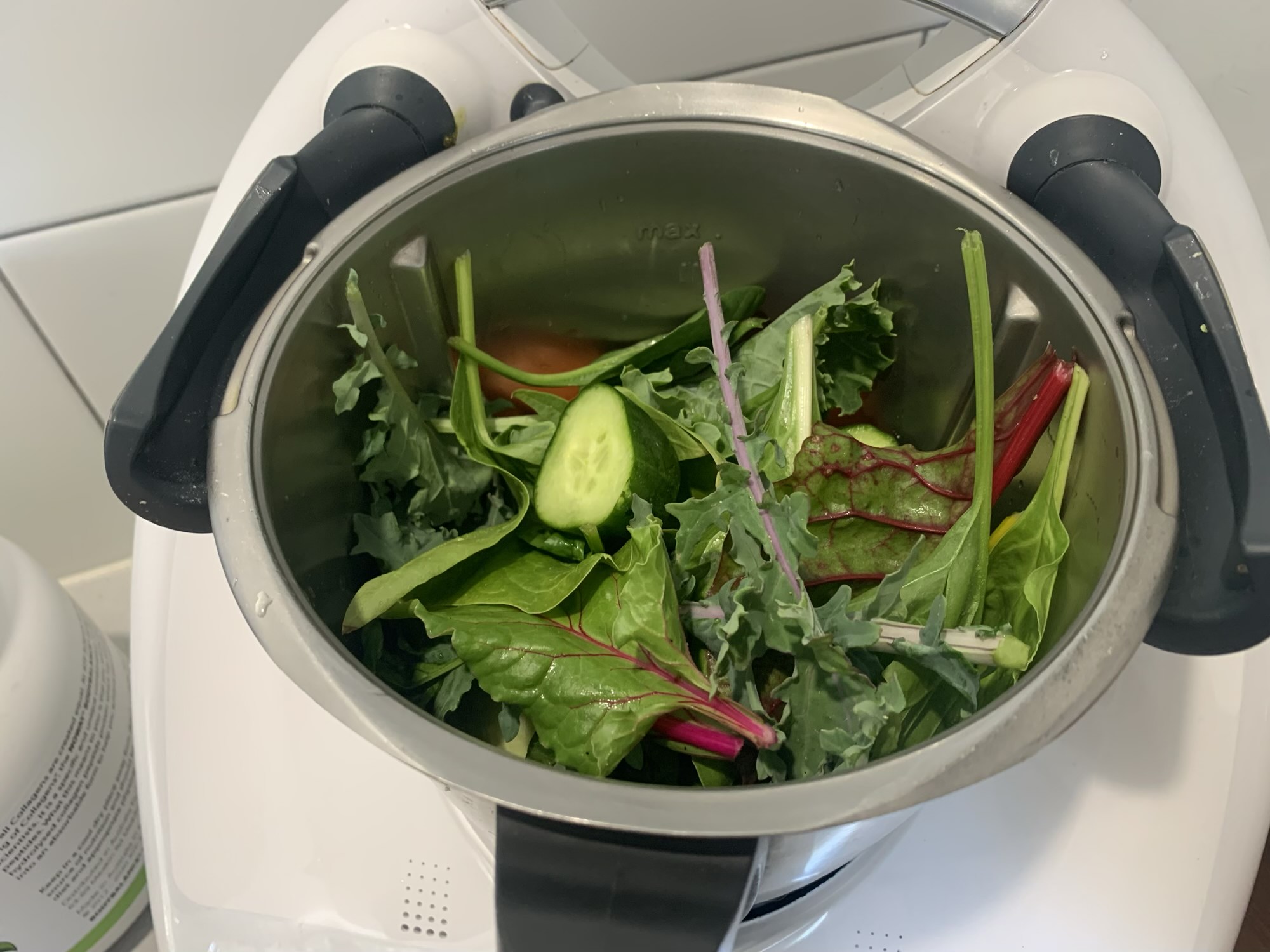 Adding an avocado and coconut oil adds "good" fats to help support your body in many ways. These unsaturated fats lower cholesterol and I can tell you that I get raving reviews from my doctor about my cholesterol whenever I get a check up. My cholesterol is fabulous! Other ways healthy fats may help are:
lower blood pressure
possibly promote fat loss
supporting inflammation pathways
otimize brain function
help with liver health
strengthen bones
help with sleep
improvement of skin
assist with maintaining healthy blood sugar levels
as a source of energy
If you wish to read further on the benefits of healthy fats, here is a list of benefits at this website with links to studies. This website link, 10 Evidence- Based Health Benefits of Coconut Oil also includes information about the benefits of coconut oil in your diet.
Moving on to protein powder, which I use in my smoothie! Fats, stacks of veggies and protein is the foundation of my auto immune diet. I needed to use a protein powder that was gluten free, grain free, dairy free, soy free and legume free without added artificial nonsense. Hydrolyzed collagen peptides seemed to tick the boxes and has been a successful protein in our house. My local health shop carries Norway's Hydrolyzed Collagen Protein by ATP Science and this is the one we use. It's a pretty economical and competitive quality protein powder.
Watch this Youtube video on Norways product

You can also buy Noway's Collagen Protein in a variety of flavours like Triple Chocolate or Chocolate Caramel Fudge which my boys like using to make less green smoothies. I will add their go to smoothie in a future post.
I also include extra health boosters in my smoothie like: turmeric, flaxseed (or linseed) and psyllium husks. These 'super foods' have many benefits with tumeric being most known for its great anti inflammatory properties. Tumeric has many other potential health benefits which you can read about here. I love this stuff!
Linseed's main health benefit being its content of omega-3 fats, lignin's and fibre. Health heart, cancer prevention, gut health, lower cholesterol, decreased blood pressure, lower blood sugar and decreased appetite are some of the possible benefits of flax seeds regularly being part of your diet. Read about the benefits of linseed here.
Psyllium husk is a natural way to increase your fibre intake, it can relieve constipation and research shows that heart health, cholesterol, blood pressure and blood sugars all can benefit. Read Dr Axe's article on Psyllium husk here for more information.
And onto making the Green Goodness Smoothie …
I use a thermomix to blend the Goodness mix, but any processor will be fine. Another handy gadget that I love to use in this recipe is this great little tool for slicing apples. Check out here if you don't have one … Apple Slicer
Moving onto Smoothie cups. There's nothing more satisfying than drinking a smoothie out of a funky functional tumbler. I purchased a number of the double walled metal Cotton on Smoothie cups that hold 650ml, though we have managed to break two of our Cotton On tumblers with the lid construction not handling some more stressful situations. They have some really great designs. The one in the picture below is the replacement to my failed one. Hopefully this will last longer now that I know to be more careful. I think I will also look to finding a more rugged design for future purposes and will update you when I do so.
I use this smaller glass Avanti smoothie cup (580ml) for left overs or its a great size for my younger kids when they make smoothies. It has survived my kids though it isn't double walled.
And now for my Green Goodness Recipe
Print Recipe
Green Goodness Smoothie
A great green smoothie perfect for breakfast each day. I find that I also have enough to put in a separate cup that I will have either at another time during the day or even save for the following morning. This recipe has plenty of super foods and will keep you full for longer whilst improving your health.
Equipment
food processor

chef knife

Optional - apple slicer
Ingredients
1 - 2

carrots

1

celery stick

1/2

cucumber

lge

handful of spinach, kale and chard

1/2 - 1

green apple

1/2

lemon

1/2 - 1

avocado

1/2

tsp

tumeric

1

tbsp

coconut oil

(best to have the liquid version)

1

tbsp

protein powder

1 1/2

cups

coconut water

(May prefer 2 cups, depending on how thick you like it to be. Adjust to suit.)

1 cup

ice

1 - 2

tbsp

flax seeds or flax meal

1 1/2

tsp

psyllium
Instructions
Add all the vegetables, apple, avocado and lemon to the processor.

Add rest of the ingredients except for the psyllium.

Process until the ingredients have been mixed well. I usually do about 1 minute; however, each mixer will produce varied results.

Add psyllium husks last and mix. Psyllium can make the mixture thicker so its best to leave until last.
Notes
If I am organised, I chop extra veggies and then place them in either zip lock bags or glass containers to use in the days ahead. If you do freeze them, you won't need to add ice, so adjust as required.
Other options to vary this recipe are:
Using non dairy milk of your choice instead of coconut milk
Add 1/4 cup of berries
Add 1 tsp Maca root powder (good for the hormones).
*This post contains affiliate links, so we may earn a small commission when you make a purchase through links on our site, at no additional cost to you. You can read our disclosure here.