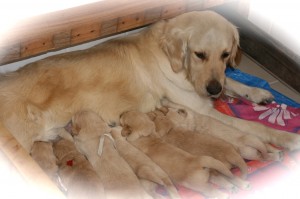 Great news today, I received notification from Dogs West that my prefix ROSIEGOLD had been accepted. Yipee:)
All puppies now have wonderful homes to go to. I only put my add up on Gumtree for a very short period as I had sooo many people keen on a Golden Retriever. They are such lovely dogs with the most beautiful natures. Of course, I'm bias but Rosie is the best natured Golden ever and her and Sebastian's puppies are also sooo adorable. 
The puppies' eyes have really opened up and their ears are also opening. We're also starting to see them getting up on all fours, wobbling around their box. They're also starting to pee in their box more so we've begun potty training! It's good fun to see them start to play a bit more with their siblings. The kids are allowed to handle them a bit more and the puppies dont seem to mind at all. We're also getting ready to start the weaning process, so it's going to get messy! The pups will have to get used to bathtime too with all the mess of food and poop! 
I've been changing the bedding daily, however, I may need to do that twice a day with all the mess. I just give the old sheets I'm using a wash and hang them out in the sunshine for reuse. I'll try using newspaper for their peeping and pooing spot and see how we go. What fun we'll have as they start to explore their world more.