I had been looking for a bed setting and curtains for Hosanna's room without much success. I wasn't wanting to spend a fortune and I wasn't keen on anything I had come across that fit within my budget. I like sweet girly things for little girls and I'm a big fan of vintage bits and bobs.
As I have three children, I don't have time to be checking out the stores so I like to look online.  After searching numerous sites, I struck it when I came across a bed setting and matching curtains on Gumtree. What I had found was a vintage 'Holly Hobbie' set and I was sooo excited.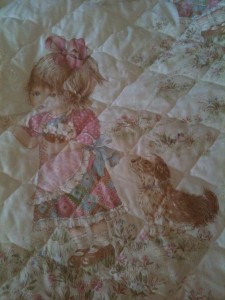 When I was little, I had a Holly Hobbie bedspread. So not only was this bedspread find sentimental, it was also sooo sweet, just what I wanted for my little girl. I got both the curtain and bed spread for $35 and they were in excellent condition, as new. A very pleasing buy for me.