My little cooking munchkin looks so adorable in his apron and chef's hat. In this first picture, Isaiah is rubbing the butter and sugar together for our first attempt at a Blueberry muffin recipe. The recipe is out of the Women's Weekly Old Fashioned Favourites cook book.
His chef's outfit came with a glove which he was super keen on using to put the muffins in the hot oven. I was NOT keen on this and sidestepped his insistance by getting him to move the tray after the muffins were cooked and already out of the oven.
Isaiah really LOVES cooking! Of course, his favourite part is where he gets to  lick the cake mixture out of the mixing bowl, but then who doesn't love that part!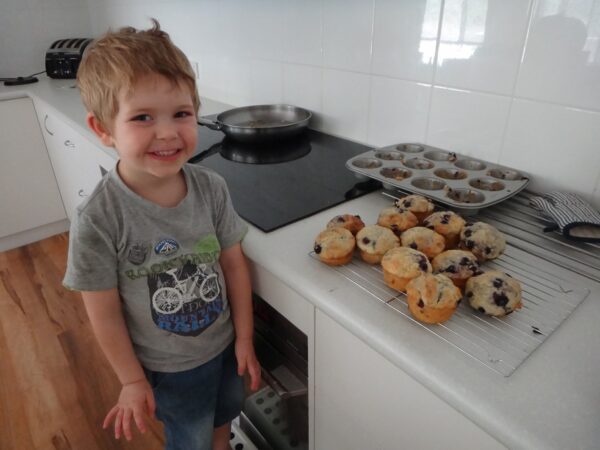 The last picture here is of the final product, delicious blueberry muffins. It was a great recipe. Isaiah has since enjoyed these muffins for breakfast as well as for morning tea and afternoon tea. Of course a cuppa goes very well with a blueberry muffin and Isaiah likes his tea in his 'Mr Strong' mug.